HILLSIDE ACRES
We have just under 100 acres of land at the base of the beautiful Mt Alexander in the small hamlet of Harcourt, less than an hour and a half from Melbourne. We breed sustainable, ethically-raised, free-range meat on a small scale basis. We also produce duck eggs. We currently have ducks, chooks, pigs, sheep, cattle, horses and dogs on the property and accommodation for farm stays. We are also open for tours by arrangement.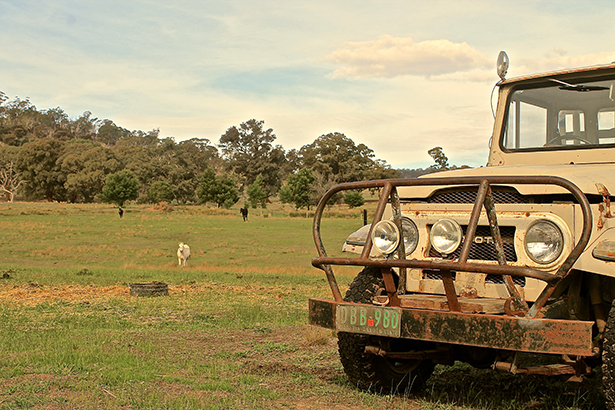 Hillside Acres farm is run by me, Rebecca, my husband, Jarrod, and our two sons, Hunter and Archer. I was brought up in the area by parents escaping from the city for the country lifestyle. As kids, we always had animals and some land, and were lucky enough to enjoy an active, outdoor lifestyle including a lot of horse-riding! However, it wasn't really a farm. Jarrod grew up in the nearby Bendigo and although also not growing up on a farm, he did a lot of walking in the bush, went hunting and fishing regularly with family and friends, and has a real affinity with the farming lifestyle. We met in our early twenties in Castlemaine. Throughout our partnership, we talked regularly about running a farm, having land and animals. However, life got in the way, and instead we pursued our careers (law for me, and natural resource management for Jarrod) and had some adventures including spending a year travelling around Africa in a Landrover, and two years living in the Kimberly region of Western Australia working for Aboriginal people.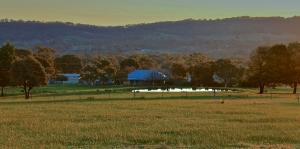 We returned to Harcourt just after the birth of our first child and began looking for the perfect property. Not an easy thing to find! We wanted it to be in the granite country, preferably with some wild areas, because we both love that environment so much. However, we also wanted some farming land, ideally with a bit of infrastructure, so that we could do some "real" farming. After a couple of false starts, we heard about our current property being offered for sale, and jumped at the opportunity. It was and is exactly what we were looking for. We moved here in December 2014.
We were so excited about starting to be farmers that before we even moved to the farm we had bought 8 Angus steers (which the previous owner kindly allowed us to run on the farm before they moved out), and 50 ducklings. Having enjoyed our first Christmas on the property, by January, we had also bought a boar and a pregnant sow and a small flock of sheep. We were also trying to renovate two buildings to turn them into accommodation, and work our existing jobs. That first three months was a killer! However, since then we have managed to learn to balance things a little better!
Jarrod's career has been in the environment field and he has a terrific knowledge of the countryside in this area. He understands the impacts the geology has on what grows and what doesn't, he can recognise both native flora and fauna (and has a particular passion for birds) and knows how to encourage them. Perhaps even more importantly, he has worked in pest plant and pest animal control so he knows how to deal with the various weed species that are inevitably on the farm, and methods of control for the unwelcome rabbits and foxes, our main pest animals in this area.
My legal skills are of less use in the day to day running of the farm, but I'm good at organising, I'm strong and can carry bales of hay and sacks of feed about, I love feeding the animals (especially the babies) and I do the books.
The two boys love living here and we have not once regretted the move.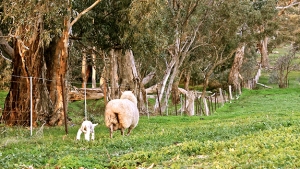 We like to eat meat. But, we also really strongly believe in animals being treated with respect and dignity and being able to live lives that are as natural as possible and with as little pain and stress as possible. We really dislike the ways animals can be treated in some large scale farms. One thing we particularly dislike is the way in which animals are transported in Australia. We also like our meat to be free from any chemicals, or other additives. Finally, we believe in ensuring that our land is constantly improved, rather than degraded. Consequently, our philosophy is to provide natural, free range, ethically grown products with as low food miles as possible.
Free-range: We provide as natural an environment as possible for the animals, and for the most part, allow them to live their lives grazing peacefully on the lower slopes of Mount Alexander. We use low stocking ratios and … While we do lock up our ducks at night in a shed or caravan, this is for their own protection from foxes, and once dawn breaks, the automatic door opens and they are free to leave the shed and wander to their heart's content across the paddocks, and swim in the dam.
While we do move the animals around the farm, we try to ensure that the paddocks always have a cover of grass.
Low food miles: All our stock are either bred on the farm or bred locally and then raised on our farm in the Harcourt valley. When the time comes for them to be turned into meat, we take them to the nearest abattoirs ourselves, in our own vehicles, (with the exception of the cattle as we don't have an appropriate vehicle) ensuring that there is as little stress as possible. We would LOVE to be able to butcher the animals on the farm, but the current regulations are incredibly strict in this regard and if we do butcher on-farm, we cannot sell the meat. We sell mainly to local people.
Ethically raised: We provide shelter and care for the animals and check on each and every one of them at least once every day. We keep our animals healthy and definitely hormone free.
Environmentally sustainable: 17 acres of the farm (on the slopes of the hill) have been locked away from all grazing animals (other than the native kangaroos) and re-vegetated. We are committed to enhancing the native flora and fauna in this area, particularly increasing the number and diversity of birds and shrubs, which are largely missing in the farming landscapes. We are also lucky enough to have a beautiful paddock with some magnificent old-growth Yellow Box and Red Gum trees. Some of these trees could be as old as 700 years. To protect this area, we only very lightly graze it
We don't want to be a big farm.